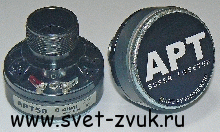 Eminence APT 50 (APT50) ВЧ-Драйвер, 1", 35W(AES), 8 Ом., 3500Hz-20kHz, 104.7dB(W/m), катушка 1"

Specification:



Throat Size: 1.00", 25.40mm
Nominal Impedance: *8.0 ohm;
Minimum Impedance: 7.4 ohm @ 6.1 kHz
Power Rating**: 35 W (AES)
Resonance: 2.10kHz
Usable Frequency Range: 3500Hz-20kHz
Recommended Crossover: 3.5 kHz / 12 dBkHz
Sensitivity***: 104.7 dB(W/m),
Magnet Material: Ferrite
Magnet Weight: 8.00oz, 0.23kg
Voice Coil Diameter: 1.0" / 25.40mm
Voice Coil Former: Kapton
Diaphragm Material: Phenolic
DC Resistance (Re): 6.30 Ohm

Mounting Information:

Overall Diameter: 2.75", 69.80mm
Driver Volume Displaced: 4.0e-0 cu.ft., 0.12 liters
Depth: 2.53", 64.30mm
Weight: 1.70 lbs, 0.80 kg
Mounting Thread: Use Apt Horn or Adaptor
Mounting Holes Diameter: N/A
Mounting Holes: B.C.D.N/A

Footnotes:


* Please consult www.eminence.com for specifications of models with alternative impedances.

** Multiple units exceed published rating evaluated under AES noise source and test standard while mounted on the H290 or H290S horn in a non-temperature controlled environment.

*** The average on axis output across the usable frequency range when applying 1W/1m into the nominal impedance, i.e. 2.83V/8Ω, 4V/16Ω. Eminence response curves are measured under the following conditions: All speakers are tested at 1W/1m using a variety of test set-ups for the appropriate impedance | LMS using 0.25" supplied microphone (software calibrated) mounted 1m from wall/baffle | 2ft x 2ft baffle is built into the wall with horn front mounted | Carver PM-120 amplifier | 2700ft3 chamber with fiberglass on all six surfaces (three with custom-made wedges).